Benefits of Waste Brokerage Software
Lets You Work More Effectively
cieTrade helps waste brokers manage their critical business data and operations from one place that can be instantly and securely accessed from anywhere.
Organizes Your Waste Brokerage Operation
Manages all of your customer accounts and service locations with related equipment, charges, and assigned haulers for easy access and maintenance.
Helps Track
Equipment
Makes it easier to track the location and status of each one of your equipment pieces, allowing you to monitor equipment inventory levels and deliver for your customers.
Helps Improve Customer Service
cieTrade helps provide your customers with instant access and visibility into key information including payments, shipments, open invoices and more.
Provides Critical Business Insight
Provides all of the specialized reports you need to manage your waste brokerage business including gross profit reporting by account, location, service type and more.
Seamlessly Connects With Accounting
Saves time and minimizes errors by synchronizing master data and transaction postings without the use of manual batch files that can easily lead to reconciliation headaches.
cieTrade's powerful platform organizes our operation and helps us provide better data for our customers. The team behind their software is the best in this space. The constant state of innovation and collaboration is what keeps our company engaged in a long-term partnership with cieTrade.

Stacey Harralson, President
Key Features of Waste Brokerage Software
Account & Service Organization
Manages all of your customer accounts and service locations with related equipment, charges, and assigned haulers for easy access and maintenance.
Tracks equipment hauling agreements including expirations and price escalations with email alerts.
One-click creation of service notification emails to haulers saves time and avoid costly errors.
Separately define customer charges and hauler fees for both recurring and on-demand services.
Define customer benchmarks per service charge with cost-saving splits.
Automatically calculates shared savings per charge on customer billing.
Automatically calculates estimated fuel surcharges and taxes.
Manages on-demand, scheduled, one-time and recurring service requests for equipment drop-offs, pickups, switches and more.
Supports multi-stop pickups, bale routes and municipal stream allocations.
Generates driver tickets and route sheets.
Monitors performance to meet service level demands.
Features optional mobile dispatch app for drivers.
End-of-Month Reconciliation
Unique "Billing Sheet" concept makes it fast and easy to reconcile charges with hauler invoices.
Automatically generate charges and expenses from accruals defined by your recurring and on-demand prices to minimize manual data entry and help spot billing discrepancies.
Calculates and applies rebates for recycled material against waste services charges with AR/AP netting.
Automatically generates all of your specialized billing documentation using fully customizable templates and digital signatures.
Predefined document types include: billing sheet invoice, waste transfer notes, dispatch tickets and more.
Captures and saves emails directly from Outlook.
Emails documentation, photos, and file attachments to your clients or waste recycling partners directly from cieTrade in one click.
Generates all of the specialized, Excel friendly reports and multilevel drill-down inquiries you need to manage daily activity and business performance.
Advanced reports include: gross profit by customer, tonnage and pricing trends, settlement statements, commissions and much more.
Integrated Self-Service Portal provides your customers and waste recycling partners with on-demand access and visibility to recovered material, shipments, pricing, payments, documents and more.
Want to see a full list of features?
Download our waste brokerage
software brochure today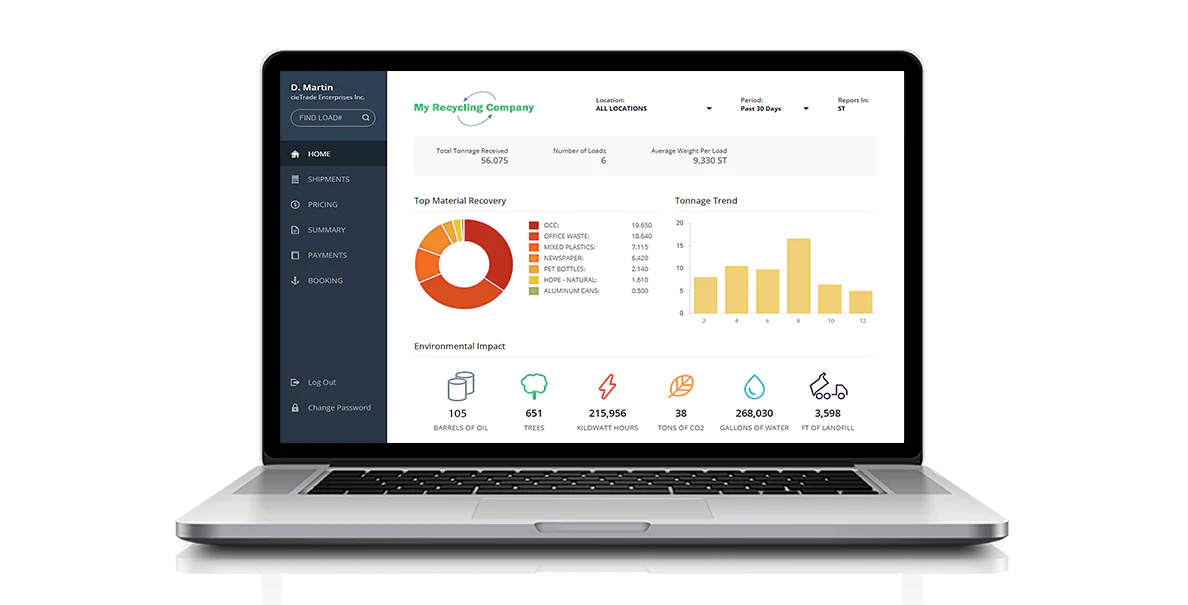 cieTrade's self-service portal gives customers and supply chain partners 24/7, on-demand access and visibility to recovered material, pricing, payments, sustainability reports, documents and more.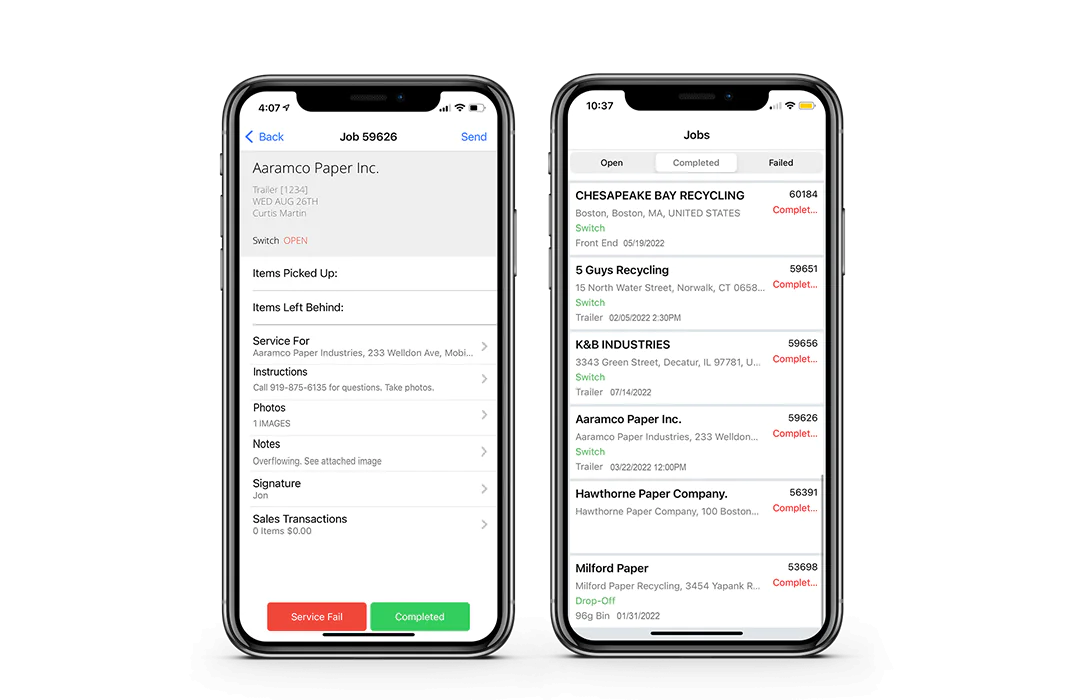 cieDispatch lets your drivers retrieve a list of assigned tickets, get directions to service locations, update job status, record notes and even capture photos.
Interested in Learning More?
Learn how cieTrade can meet the unique needs of your trading or recycling business with an online demonstration tailored to your specific areas of interest.